Group Fitness Classes In Burlington
Find The Best Training For Your With Our Adult Group Fitness Classes
Don't forget about the adults! At Skillz 4 Kidz, we've got you taken care of with the fastest growing Group Fitness training program in Graham and the greater Burlington area. From Zumba and Pilates to Cardio Kickboxing and Personal Training, we're here to help you stay fit and motivated with programs that best match your training preferences.
Our team of instructors works hard to ensure that each of our Group Fitness classes is both exciting and challenges for students. But we also strive to connect with you on an individual level to help you meet and exceed your fitness goals.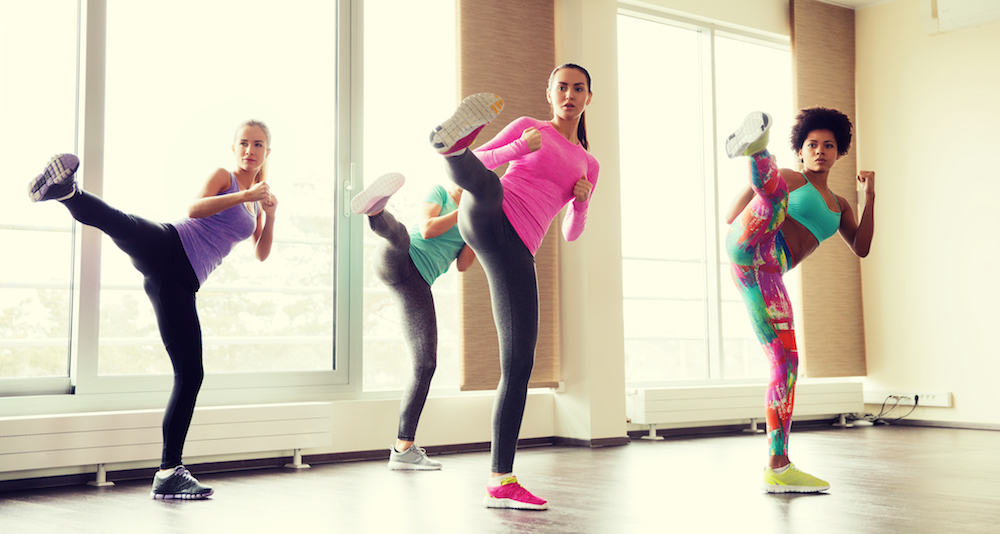 Take Your Pick From The Most Exciting Group Fitness Classes Around
Skillz 4 Kidz Group Fitness classes include:
Zumba: The best combination of high-energy cardio and addicting dance movements, Zumba is perfect for the athlete who wants to have fun while they burn hundreds of calories. Our Zumba classes bring you a total body aerobic workout alongside a supportive and family friendly environment.
Pilates: The cousin of traditional yoga, Pilates focuses on elements of breathing, concentration, flexibility and posture through a series of progressive movements and exercises. You'll develop total body strength while alleviating pain from your joints and lower back.
Cardio Kickboxing: Take your training to the next level with the best stress-reliever we have to offer. Cardio Kickboxing allows you to perfect multiple martial arts techniques like kicking and punching while getting a total body workout that melts away calories and lets you take your frustrations on the bag!
Personal Training: There is no substitute for personal training when it comes to highly individualized training that keeps you motivated, ensures your safety, and celebrates your successes. Our personal training program is built around what YOU want to achieve.
OR Blend Them All For A Comprehensive Weekly Program
Just can't make up your mind? Then we encourage you try them all! Our Group Fitness lineup is full of top-notch training that will help you improve your overall health and fitness without leaving you to fend for yourself. Blending our Group Fitness classes throughout your training will help you:
Improve your cardio endurance
Tone and strengthen muscle groups across your entire body
Develop unbelievable core strength
Carry a sense of accomplishment with you throughout your daily life!
Start Your Journey Today With Our Group Fitness Classes At Skillz 4 Kidz
We absolutely love the comradery of our Group Fitness classes and we can't wait to share that with you. To learn more about any of the classes offered at Skillz 4 Kidz or to get started today, just fill out the short form on your screen now!